Salty Tissue

2023
site specific installation
salt, cotton fabric, wool, acrylic ink, clay

Tissue is a tissue is a tissue is a tissue.

Disposable and ephemeral or made of cotton, forgotten in our pockets forever - holding a part of who we are.

Tissue is a group of cells that have similar structure and function together as a unit. The spaces between the cells are filled with a non living material- it may contain salts.


Most of the human body is liquid. We are on a constant flow, a never ending transformation of our existence. Are we able to solidify a part of us? Could we preserve our water and the secrets it holds?


Anna Jarosz' practice is based on interpreting the female experience of a body, its consistency and qualities. What we are able to see and what we cannot. The trauma that one holds, our liquid self, the well of memories.

Jarosz takes over the whole gallery space and creates a hybrid tissue system, in a waterscape full of salt . Each system is a levitating bed sheet, with cryptic stains and tangly embroidery ending up to a salty lake. The threads take the form of veins or roots, establishing connections to ensure their preservation.Water and salt, the humblest of elements, elevate day by day, climb the threads and cover the systems. A preservation process and an interpretation of the floating words into pseudocrystals. You cannot read the same poem twice, you cannot enter the same space twice.


Jarosz draws inspiration from her Slavic roots, and uses salt as a protection from our demons and as a preservation practice of one's body. She creates a safe route of bed sheets that act as a shield. Dreams, thoughts and memories of her experience as a woman are hanged with care as a choreographed laundry aimed to never drain.


By entering the space you accept the artist's invitation to become a collaborator to this fragile piece. Your body's chemistry and movement in space would affect the crystals. Every visitor is a participant able to change the movement of each artwork, leave their footprints or even transparent body liquids.

The ephemeral nature of the art piece establishes a code of trust among the artist and the participants, their thoughts are safe under the crystals.


A floating artwork that resembles the essence of our bodies. A transformation of our collective memory.




text by Sofia Kalvourtzi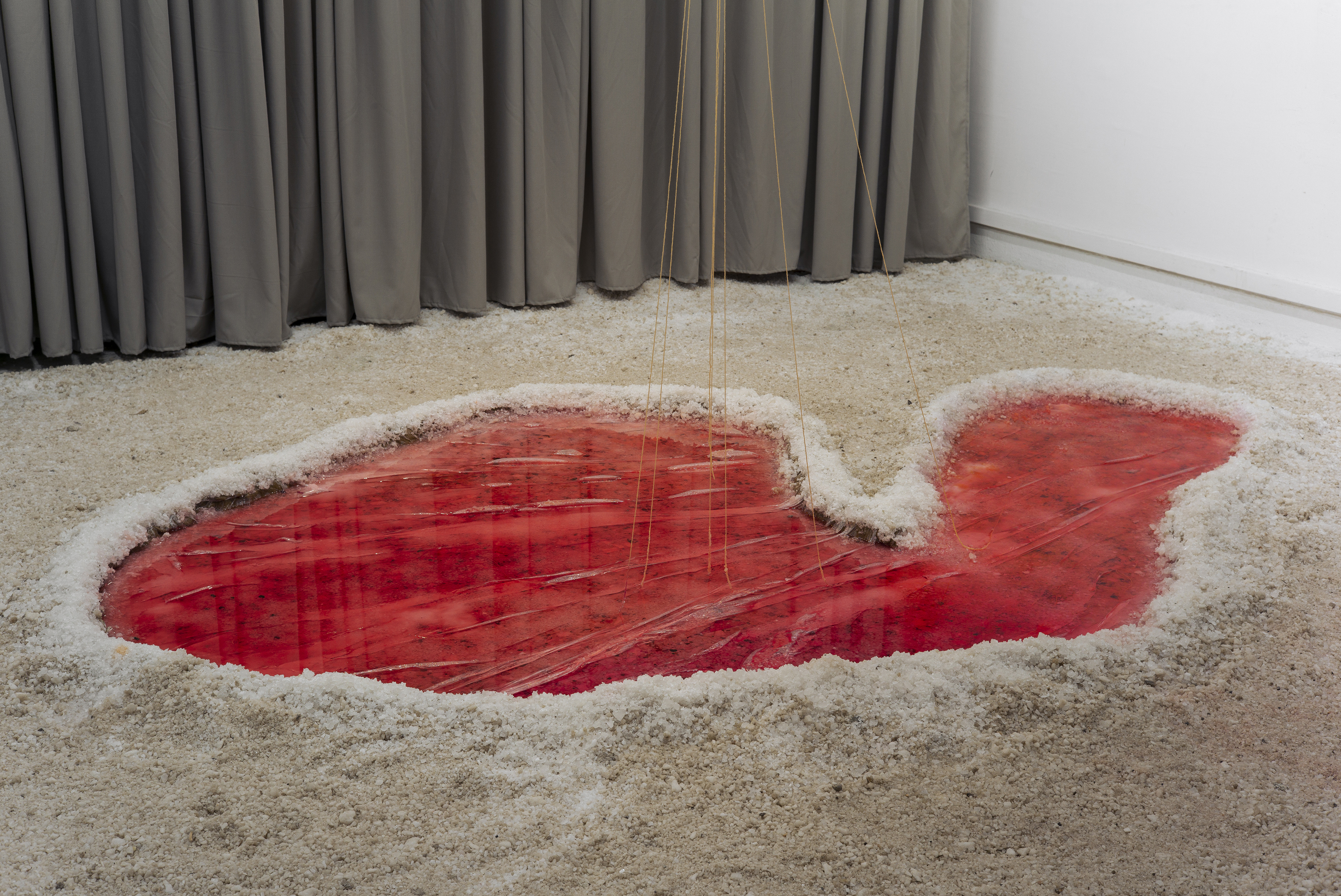 Photo documentation by Frank Holbein and Lucia Peralta